You can find more reipes on:
Bisquick Pancakes Recipes
1. Bananas and Cream Pancakes

Ingredients: 6 servings
Pancakes


2 cup Bisquick




2 tsp Baking powder




2 tbsp Vegetable oil




1 tsp Vanilla




3 tbsp Sugar




1/2 cup Milk




2 Eggs




4 small Bananas (mashed)


Cream Cheese Filling
8 oz Cream Cheese




1/2 cup Butter/ Margarine




1 cup Powdered Sugar




1 tsp vanilla


Steps: 30 mins
1. Preheat a lightly greased griddle to 350°




2. Stir all pancake ingredients until mixed.




3. Drop by 1/4 cup onto griddle. Cook approx 1-2 min each side. Until light and golden.




4. While pancakes are cooking make the topping/icing.




5. With a mixer cream together the cream cheese, powdered sugar, vanilla and butter until spreading consistency.




6. Put a pancake on a plate spread icing on top, add another pancake on the 1st pancake. Garnish with sliced banana. Serve with warm syrup and sprinkle powdered sugar on top(optional).
2. Peanut Butter cup Pancakes


Ingredients: 8 servings




2 cup Bisquick mix




1 tbsp sugar




2 tsp baking powder




2 eggs




1 cup milk




2 tbsp lemon juice




10 mini Reese's peanut butter cups




Steps: 10 mins




1. Preheat electric griddle or skillet to 350°. Chop peanut butter cups in small pieces. Set aside.




2. Combine all ingredients and mix well. Mix will be slightly lumpy, but try to get as many out as possible. Mix in peanut butter cups last.




3. pour about 1/2 cup mix onto griddle or frying pan. cook on each side approximately 5 mins or until cakes are browned on each side.
3. Bisquick Pancake Dippers
Steps: 30 mins
1.
Cook bacon and set aside.
2.
Mix pancake batter according to the package directions.
3.
Pour into a squeeze bottle with a big enough hole for the batter to pour from. I used a cheap picnic ketchup bottle.
4.
Heat griddle to 300°F.
5.
Squirt batter in a long oval shape a little longer and wider then the bacon and place a slice of cooked bacon in the center.
6.
Lightly press bacon into the batter.
7.
Squeeze more batter over the bacon. This is to protect the bacon from the griddle when you turn that pancake dipper over.
8.
Cook until the batter starts to bubble then turn over and cook a few minutes longer.
9.
Serve with syrup.
4. Bisquick Apple Banana Oatmeal Pancakes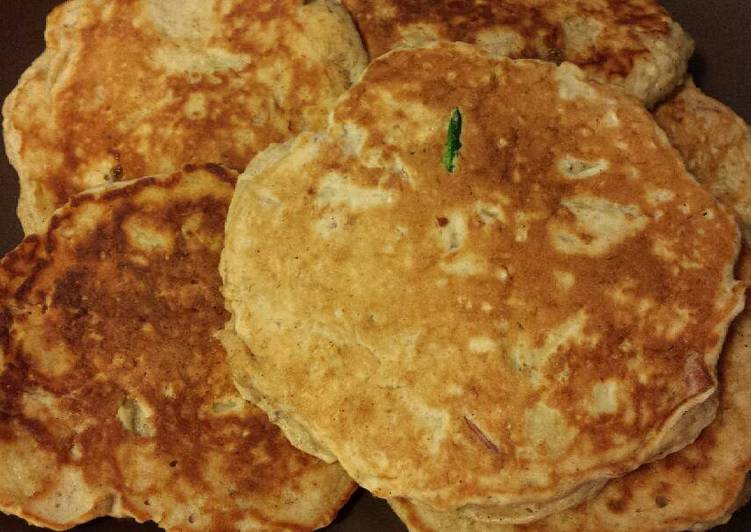 Ingredients
1 apple (diced)
2 very ripe bananas
1/2-1 cup oatmeal
1/2-1 cup Bisquick mix
2-3 eggs
1 tbs vanilla extract
1 tbs cinnamon
2 tbs blackberry honey
Steps
1. In large mixing bowl, add diced apple, bananas oatmeal, and bisquick. Mix. Add eggs, honey, vanilla, cinnamon. Mix well. Mixture will be thick. Add more egg to mixture if too dry, add Bisquick if too wet.
2. On a preheated griddle set at 325°f, spray with cooking spray and poor batter to form your pancakes, cook and flip until ready. Enjoy!
5. Bisquick Vegan Mounds Pancakes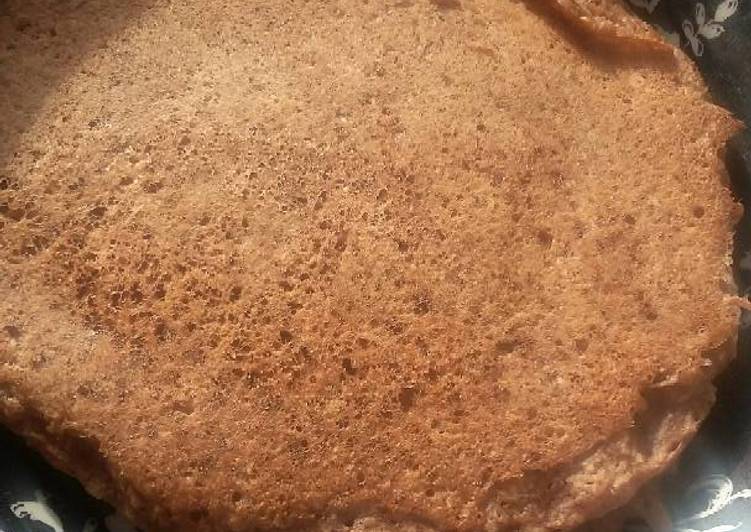 1.

Preheat pan over medium heat appropriate for pan size and burner size.
2. Combine all ingredients in medium mixing bowl
3. Pour large dollops into hot pan making pancakes about 4-5 inches in diameter. You may jiggle the pan to encourage it to spread thinner if desired.
4. Allow to cook 2 minutes on the first side, flip, and one minute on the 2nd side
5. Top with whipped coconut topping and enjoy!
6. Bisquick Shamrock Pancakes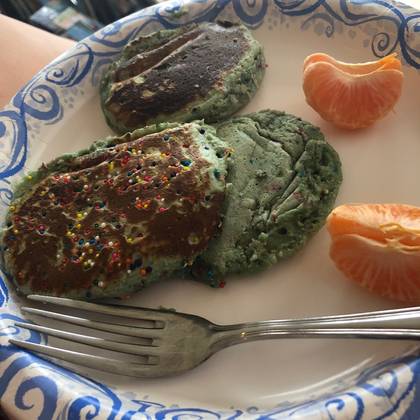 Ingredients
2 cups original Bisquick mix
3/4 cups whole milk
2 eggs
1/2 cup orange juice
Splash vanilla extract
1 teaspoon cinnamon powder
12 Drops green food coloring
Maple syrup
Pat of butter to top off your pancake
Steps
1. Mix together the Bisquick mix, whole milk, eggs, orange juice, splash of vanilla extract and cinnamon powder in a large bowl.
2. Add your green food coloring and mix well.
3. Pour into a greased skillet and fry until edges of pancake start to bubble and top of pancake is almost dry looking, then flip over and cook other side of pancake...I put some sprinkles on mine !
4. All done! Serve and enjoy! Don't forget to add a pat of butter on top of your shamrock pancake