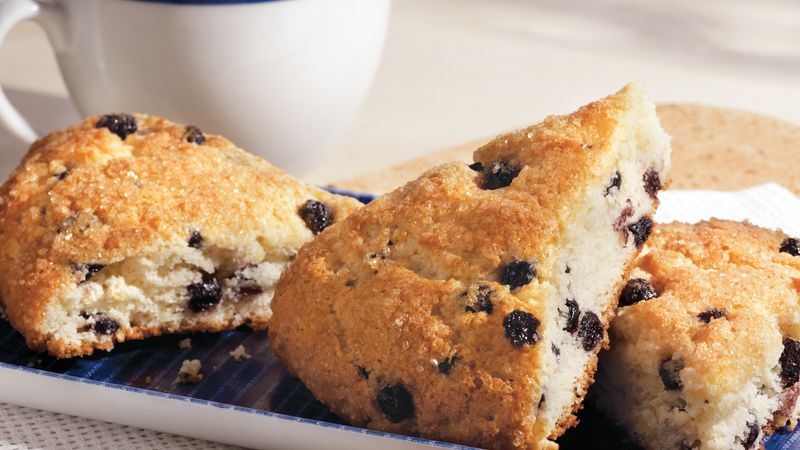 2 3/4 cups Original Bisquick™ mix
1 container (6 oz) Yoplait® Original yogurt French vanilla
1 teaspoon almond extract
1 tablespoon whipping cream
1 tablespoon coarse sugar or turbinado sugar (raw sugar)
1- Heat oven to 425°F. Line cookie sheet with cooking parchment paper. In large bowl, stir Bisquick mix, blueberries and granulated sugar. Cut in butter, using pastry blender (or pulling 2 table knives through mixture in opposite directions), until mixture looks like coarse crumbs.
2- In small bowl, mix yogurt, almond extract, vanilla and egg until blended. Stir into crumb mixture with fork just until dough forms.
3- Divide dough in half. With hands sprinkled with Bisquick mix, shape dough into 2 (6-inch) rounds about 3 inches apart on cookie sheet. Brush with whipping cream; sprinkle with coarse sugar. Using knife sprayed with cooking spray, cut each round into 6 wedges, but do not separate.
4- Bake 13 to 15 minutes or until golden brown. Cool 2 minutes; remove from cookie sheet to cooling rack. Carefully separate wedges with knife. Serve warm.