1- Mini Stuffed Meatloaves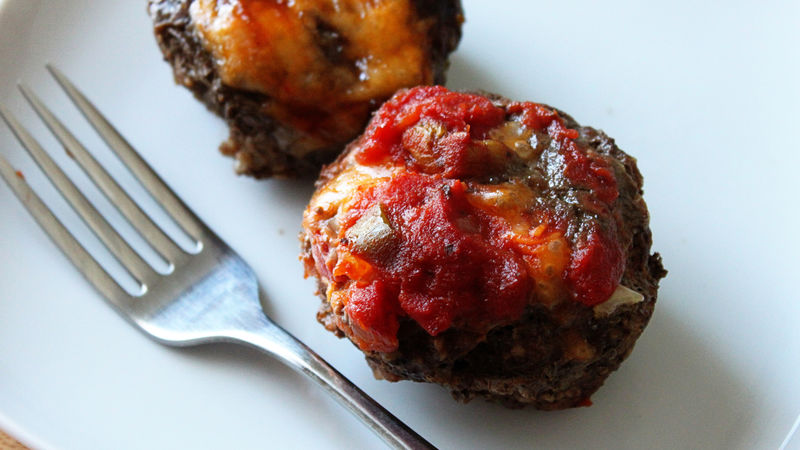 1 lb lean (at least 80%) ground beef
3/4 cup shredded cheese, any kind (3 oz)
3/4 cup barbecue sauce, pizza sauce or Old El Paso™ Thick 'n Chunky salsa
1- Heat oven to 375°F. Spray 12 regular-size muffin cups with cooking spray.
2- In large bowl, mix ground beef, oats, onion, salt, pepper and egg with hands or spoon. Using 1/4-cup measuring cup, scoop beef mixture into each muffin cup; press into cup.
3- Make indentation in center of mixture in each cup. Spoon 1 tablespoon cheese into each indentation. Top each with 1 tablespoon desired topping.
4- Bake 35 minutes or until meat thermometer inserted in center of loaves reads 160°F. Remove from muffin cups. If desired, top with additional topping before serving.
2- Rolled Italian Meatloaf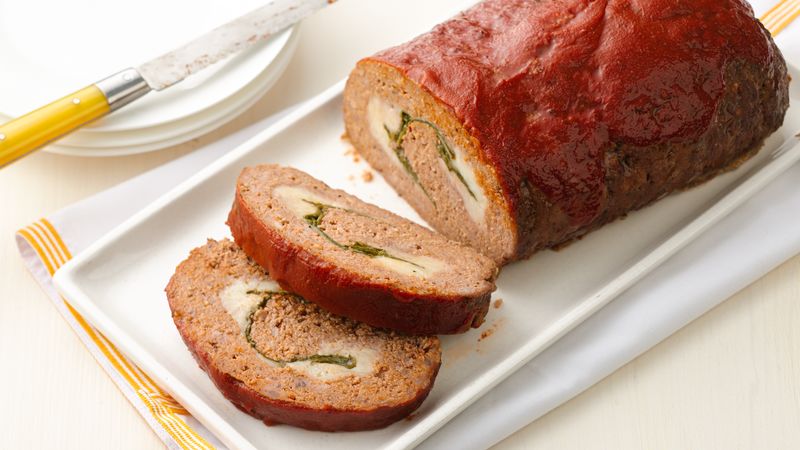 1 1/4 lb extra-lean (at least 90%) ground beef
3/4 lb bulk Italian sausage
1/4 cup Progresso™ Italian style bread crumbs
2 cups shredded 6 cheese Italian cheese blend (8 oz)
2 cups loosely packed fresh spinach leaves
1- Heat oven to 350°F. In large bowl, mix ground beef, sausage, egg, 1/2 cup of the pizza sauce, the bread crumbs and pepper.
2- On foil, pat mixture to12x8-inch rectangle. Sprinkle evenly with cheese; gently press into meat. Top with spinach. Starting at short end, roll up tightly, using foil to start roll and tucking in spinach leaves; seal ends. Place seam side down in ungreased 12x8-inch (2 quart) glass baking dish.
3- Bake 1 hour. Spread remaining pizza sauce over top. Bake 15 minutes longer or until thermometer inserted in meatloaf reads 160°F. Let stand 5 to 10 minutes before serving.
3- Honey Barbecue Bacon Meatloaf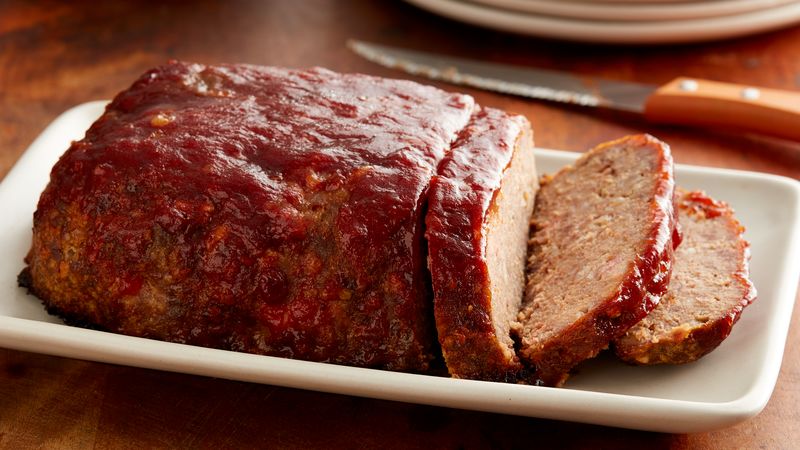 1 teaspoon Sriracha sauce
1 lb lean (at least 80%) ground beef
3/4 cup Progresso™ plain panko crispy bread crumbs
1/4 cup finely chopped onion
2 cloves garlic, finely chopped
1- Heat oven to 350°F. Line 15x10x1-inch baking pan with foil; spray with cooking spray. In small bowl, stir together barbeque sauce, honey and Sriracha sauce; set aside.
2- In large bowl, stir beef, bread crumbs, bacon, onion, garlic, eggs, salt and 2 tablespoons of the barbeque sauce mixture until well mixed. Place mixture in pan; form a loaf (about 7x4x2 inches). Top loaf with remaining barbeque sauce mixture.
3- Bake 45 to 50 minutes or until meat thermometer inserted in center of loaf reads 160°F.
4-

Savory Meatloaf (lighter recipe)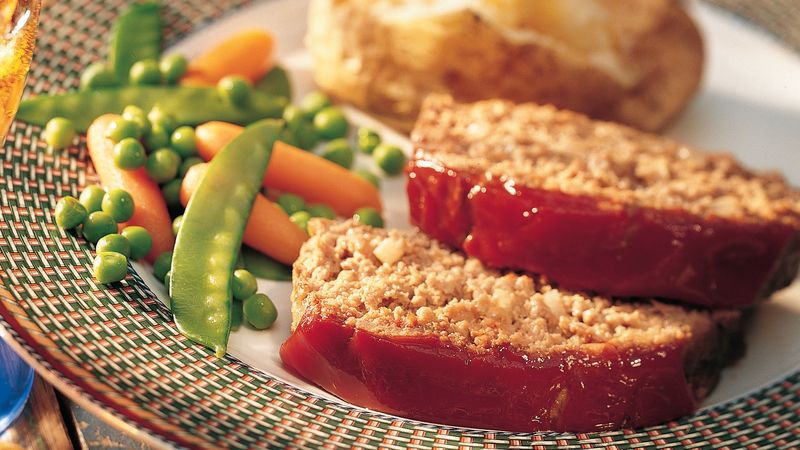 1 1/2 pounds ground turkey
1 cup fat-free (skim) milk
1 tablespoon Worcestershire sauce
1 teaspoon chopped fresh sage leaves or 1/4 teaspoon dried sage leaves
1/2 teaspoon ground mustard
1 garlic clove, finely chopped, or 1/8 teaspoon garlic powder
1/4 cup fat-free cholesterol-free egg product
3 slices bread, torn into small pieces
1 small onion, chopped (1/4 cup)
1/2 cup ketchup, chili sauce or barbecue sauce
2- Mix all ingredients except ketchup. Spread mixture in ungreased loaf pan, 8 1/2x4 1/2x2 1/2 or 9x5x3 inches, or shape into 9x5-inch loaf in ungreased rectangular pan, 13x9x2 inches. Spread ketchup over top.
3- Insert meat thermometer so tip is in center of loaf. Bake uncovered 1 hour to 1 hour 15 minutes or until thermometer reads 180°F.
4- Let stand 5 minutes; remove from pan.