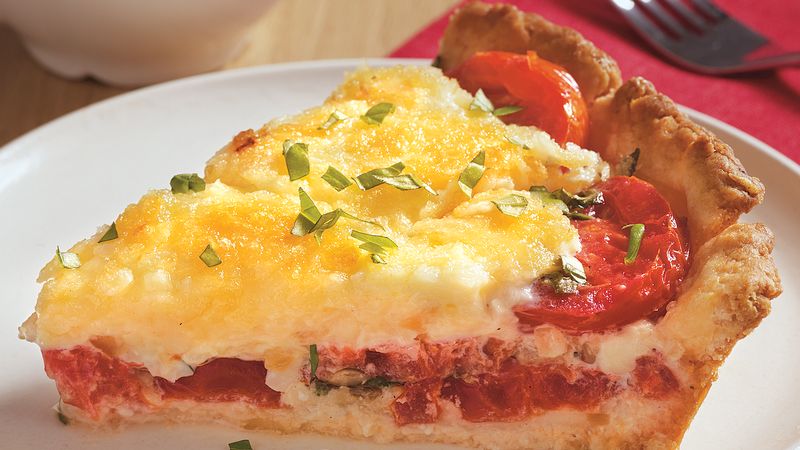 Ingredients
1 tablespoon olive oil
1 1/3 cups finely chopped onion
1 1/4 cups Original Bisquick™ mix
3 tablespoons cold butter
3 tablespoons boiling water
1 1/2 cups shredded Parmesan cheese (6 oz)
6 large plum (Roma) tomatoes, sliced
2 tablespoons Gold Medal™ all-purpose flour
1/2 cup chopped fresh basil leaves
1/4 teaspoon salt
1/2 teaspoon pepper
3/4 cup mayonnaise
Additional chopped fresh basil leaves, if desired
Directions
1. Heat oven to 400°F. Spray 9-inch glass pie plate with cooking spray. In 12-inch skillet, heat oil over medium-high heat. Cook onion in oil 8 minutes, stirring occasionally, until browned. Remove from heat.
2. In medium bowl, place Bisquick mix; cut in butter, using pastry blender (or pulling 2 table knives through mixture in opposite directions), until crumbly. Add water; stir vigorously until soft dough forms. Using fingers dipped in Bisquick mix, press dough on bottom and up side of pie plate, forming edge on rim of plate.
3. Sprinkle 1/2 cup of the cheese in crust. Arrange half of the tomato slices over cheese. Sprinkle with half each of the flour, onion, chopped basil, salt and pepper. Repeat layers. In small bowl, mix mayonnaise and remaining 1 cup cheese; spread over top of pie to within 1 inch of edge.
4. Bake 24 to 26 minutes or until lightly browned. Let stand 10 minutes before cutting. Garnish with additional basil.